Internship in Spain
Internships in Madrid

If you're interested in an internship in Madrid at Just Landed, please read the following information before applying.
Being an intern at Just Landed, you will have the chance to get an inside view of how small, young companies work and develop. We expect you to take on as much responsibilities as you can handle, to help you enjoy a full experience.
Internships at Just Landed take place at our headquarters in Madrid. Internships aren't based on a fixed programme, we prefer to develop programmes based on the applicant's interests, objectives and the duration of the internship. We will certify your internship and provide references.
Please note that we do not currently offer paid internship positions, but we can offer a generous commission split on sales for interns that generate income from their work.
Requirements for internships in Spain
To apply for an internship position at Just Landed, you must have the following skills:
Excellent level of written English
Excellent level of writing in your native language
Ability to use Word, Excel, Outlook (or other email client)
Understanding of how websites work (from a practical, not necessarily technical point of view)
If you are interested in applying, please take a look at the position summaries below. You can choose one or more positions, or suggest a different position that suits your objectives.

when (from/to) you would like to do the internship
what you would like to do with Just Landed
why you would be a good choice to do it
Attach to the email your CV and any other documentation/information/scans/images you think would be useful in evaluating your application.
Editorial/Online content
Being an intern in the editorial team will not only help you to develop your researching, writing and editing skills. You will be responsible for the following tasks:
advertising and PR activities through social media channels
publishing online content and moderating forums and adverts
writing and researching new country guides
translating articles, guides and the site itself (for native speakers of different languages).
To be an editorial intern at Just Landed, you'll need to be independent, motivated, clever and pro-active. Taking initiative, juggling tasks, managing your time and being able to work under pressure are the best skills of our interns.
Digital Media Sales
Marketing and sales interns at Just Landed get a full experience of the business development process, turning theory into practice. This is a pure sales position, where you'll get experience on direct marketing and sales.
What do we offer?
A chance to learn about different aspects on online business, including: ad trafficking, online analytics, display effectiveness and campaign optimisation
An opportunity to grow in the world of online advertising, learning about aspects like traffic visits, CTR, SEM, SEO, campaign reports, negotiating CPM prices, use of Ad Servers, etc.
You will have your own sales targets and you will assume different responsibilities. You will deal with clients (on the phone) throughout the whole process and you will learn to prepare, implement and monitor an online campaign
We will certify the internship and provide references
Performance-based bonus payments
A potential full-time job after your internship
Who are are looking for?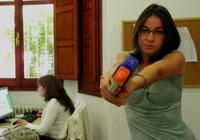 Excellent communication skills and the ability to do business effectively on the phone
University degree (Bachelor or higher)
Fluent written and spoken English is an absolute requirement. We prefer candidates with at least one other language at business level
Good knowledge about digital marketing
Ability to understand and analyse online marketing metrics
You will be an EU citizen or already have a work permit for Spain. Sorry we cannot accept other applicants at this time
What past interns have to say
We only choose the best and brightest for our internships. After improving their skills at Just Landed, past interns have moved on to some amazing jobs. Here's what they have to say:

"The summer after I interned at Just Landed, I interned with BBC Travel at the BBC Worldwide office in New York City. I got the internship because I stood out, thanks to the experience I had at Just Landed. Though it wasn't always easy, I learned much while interning at Just Landed. My Just Landed experience has already made a difference in my career trajectory, and I believe it will continue to be a foundation on which to build."
Elizabeth Lyon, US-American

"Madrid is a fun place for an internship! My time at Just Landed was not only great as I made lots of new friends, but it was also very challenging. The team at Just Landed gave me the opportunity to work closely together with all of its departments to improve my marketing and editorial skills. I gained plenty of real-life experience, which I know will give me an edge when competing for a job in the future."
Elke Op 't Root, Dutch